We do it by the book—and by the code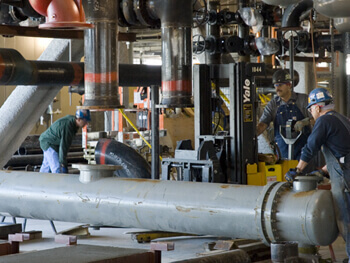 Our plumbing team is well versed in local plumbing codes, which means everything we do is by the book. Our plumbers undergo rigorous training, testing, and continuing education so they remain updated on current trends, technology, and techniques.
Our licensed, skilled plumbing technicians are experienced in:
Domestic water, storm, and sanitary pumping systems
Certified installation of medical gas systems
Complete plumbing systems for projects such as educational facilities, hotels, high-rise office buildings, research labs, and hospitals
Welding and fusion welding for various steel and plastic piping systems
Excavation
Special installations
When it comes to plumbing, no matter how complicated the project may seem, we've got the experts (and the licenses) to meet your project needs.
Contact us today to see how our licensed plumbers can help you achieve safe, smooth flowing plumbing systems.