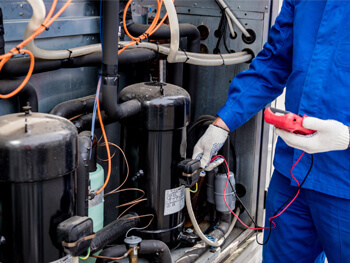 At EMCOR Services Fagan, we understand the importance of keeping your heating and cooling systems finely tuned. A reliable, efficient HVAC system helps ensure that your processes and staff are working efficiently, too.
Our preventive and predictive maintenance solutions combine systems expertise with today's leading-edge technologies to keep your equipment and systems operating at peak performance levels. We help you increase system reliability and control costs so you can better meet the challenges of today's tough economic and competitive environments.
HVAC Maintenance Services
Through our network of professionals—from customer service reps to HVAC field technicians—we can help you maintain the proper function and integrity of your entire HVAC system.
Our preventive and predictive maintenance services cover: