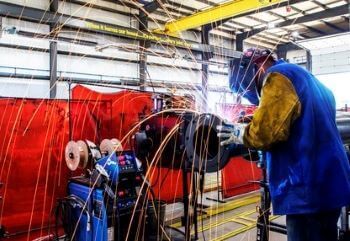 At our full-service 20,000 square foot fabrication facility, our experts use today's most advanced technology to tailor system components that fit your unique project. It all adds up to trouble-free installation, reduced construction times, and long-term dependability.
Sheet Metal Fabrication
Our workforce is highly experienced in fabricating large sheet metal roofs, expansion joints, metal siding, roof screens, and custom copper work, and is equipped to meet the creative requirements of commercial sheet metal projects of any size or scope.
We have the ability to work with a variety of materials, including stainless steel, copper, black iron, and more, giving you the options you need to meet your project's full potential.
Our just-in-time delivery service reduces jobsite clutter, improves safety, and helps to ensure on-time, on-budget project delivery.
Our services include: