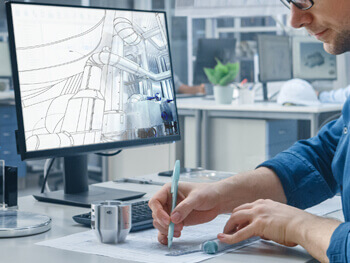 Our preconstruction department, combined with our estimating and purchasing departments, will work with you and your design team to create a design and budget, submit it to the local jurisdiction, and begin procurement of long lead time products.
Development of project documents
Our team will work with your architects and engineers to design and develop a set of construction documents. A preliminary budget and schedule will be developed and presented, providing detail so that revisions can be monitored and adjusted as the design intent becomes clearer.
Development of value engineering recommendations
As the design documents develop, we maintain close contact with your design team to identify any materials, design features, or methods of installation that may afford additional savings.
Prequalification of subcontractors and vendors
We will consult and work closely with you in selecting subcontractors and vendors who present the best products, quality, service, and performance.
Bidding and procurement of long lead time items
As acceptable manufacturers, vendors, and subcontractors are selected, we will participate in finalizing, quantifying, and expediting requests for proposals for major equipment items. Outstanding relationships with our vendors allow us to take advantage of procurement opportunities in a timeframe that is sensitive to the "speed-to-market" approach.
Attendance at meetings with local utilities and agencies
We will meet with the local utility companies to arrange temporary and permanent services. In addition, we'll pay particular attention to the permitting and inspection processes associated with the appropriate city or county having jurisdiction.
To get started on your project design with our preconstruction team, contact us today.